National Museum of Gitega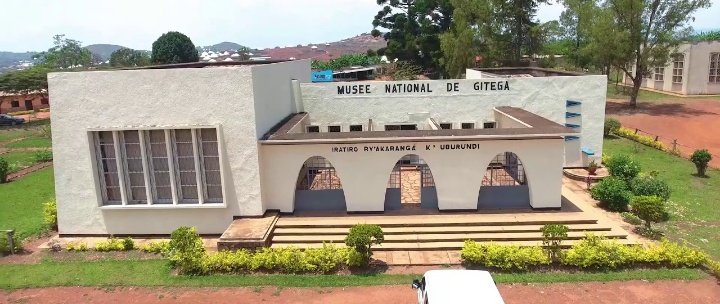 It is located in Gitega and was founded under Belgian colonial rule in 1955. The museum is the national museum of Burund and the largest of Burundi's public museums although its collection is displayed in a single room. The museum was intended to preserve artefacts from Burundian folk culture which were declining as a result of modernisation and social change. The museum's collection includes ethnographic and historical objects originating in the country, including artefacts from the court of the Burundian monarchs. The lack of funds has meant that the museum has made few recent acquisitions. In 2015, a catalogue of the museum's collection was published with the support of the German Embassy in Burundi entitled Le Patrimoine Burundais: le Musée de Gitega.
Address: HWJ5+PC9, Gitega, Burundi
Living Museum of Bujumbura
A zoo and museum located in Bujumbura, the country's largest city and former capital. It is one of the country's two public museums and is dedicated to the wildlife and art of Burundi. The museum was founded in 1977 and occupies a 3 hectares (7.4 acres) park on the rue du 13 Octobre in downtown Bujumbura. In December 2016, the zoo's collection included six crocodiles, one monkey, one leopard, two chimpanzees, three guinea fowls, a tortoise, an antelope, and a number of snakes and fish. A number of Burundian craftsmen also have workshops on the museum's premises. Several different types of trees stand in the park, alongside a reconstruction of a traditional Burundian house.
Address: J963+WHV, Rue du 13 Octobre, Bujumbura, Burundi
Phone: +257 79 45 01 40